We all love bogof's right? You know the Buy One Get One Free's of this world?
Emily went to the shop this evening hoping that with £2 she could get some Jaffa Cakes for a house full of seriously chocolate-jaffa-cake-craving women and what did we get? TWO packs of jaffa cakes, buy one get one free... and some Cadbury's chocolate fingers, can't go wrong with that?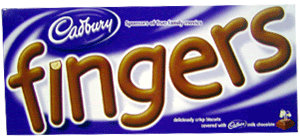 So I've decided to let you all know about all the other wonderful offers you can get for enjoying yourself's from pampering to a meal out to just a simple bogof. We all love to save a bit of money here and there don't we so why not have all our favourite places in one...
Now, at the moment I'm only signed up to 3 dealtastic savers:
KGB Deals
Groupon
VoucherCloud
I've yet to use any of them, but my friend and collegue, Carolyn from work printed off a voucher for us both to go out one day in the next month or so I presume and get a full body fake tan (I've never had one before) and have our nails done... which knowing me will only last like, 2 days. But I'm really excited about it. The best thing about it is, the price! It's only £9, down from £33, can't say no to treating yourself a little bit can you?
Go on, sign up and give yourself notification of a treat, you never know what you might find. Oh and please let me know of anything you guys find!